Welcome to Oshidori-Clinics
(Acupuncture and Moxibustion treatment Clinics)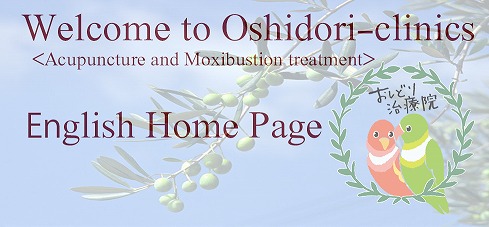 ①Massage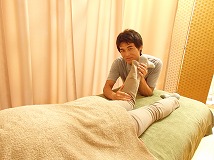 This massage is given with your clothes on.
Our massage will soothe and relax you in addition to helping to improve your circulatory and lymphatic systems.
After the massage, stiffness and pain will be eliminated and your circulation will be improved.
②Acupuncture and Moxibustion treatment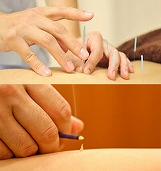 We use disposable acupuncture needles.
Our acupuncture treatment will regulate the vital energy flow of "Qi" by stimulating acupuncture points ("Tsubo"in Japanese).
Pain will be reduced by directly manipulating muscles and nerves.
For our moxibustion therapy moxa is burnt directly on your skin.
In the same way as acupuncture, it has a therapeutic effect on the area of pain as well as the entire body.
Please enjoy and relax with the scent of the Japanese incense and moxa.
③Oil Massage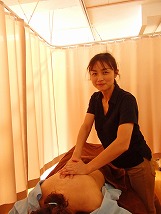 We use several kinds of blended oils containing Sweet almond oil, Coconut oil, Walnut oil and others. kind of oil to suit your need.
Sweet almond oil is moisture rich and it will soften your skin.
Walnut oil activates fat metabolism.

By using these oils, we'll relax you, making you supple from head to toe as well as helping to remove waste products.

Japanese Traditional Treatment
(Oriental medecine)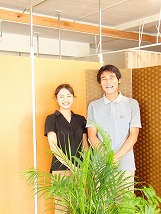 Oshidori-Clinic is an Acupuncture and Moxibustion treatment clinics run by us, a married couple.
In Japan, to be a acupuncturist and masseur requires a national qualification.
It takes three years to learn the medical basics and clinical knowledge before getting qualified.
Therefore you can be sure our treatment is safe.
Please experience our Traditional of Japanese treatments.
PRICES
Massage/-Acupuncture and Moxibustion treatment
・Adult \6200 (60min) \3500(30min)

・Child(High school student and below) \4200 (60min)
Oil massage

・\8400 (60min)  \4500 (30min)

Beauty Acupuncture
・\6200 (60min) \4000 (30min)
Head Massage
・\3500 (30min)
Our Treatment is benefical for the following problems
Sports Injuries(※1)
Sooth and relieved painful pregnancy symptoms and Breach Treatment
Stiffed Shoulder, Lower Back Pain and Various symptoms...(※2)
Mind and Body relaxation refresh
Anti-Aging
Health Promotion
Improving basic immunity for prevention of disease
※1
Bruise, Sprains, Muscle Strain, Osgood, Hip Pain, Heel Pain, Plantar Pain, Tennis Elbow, Baseball Elbow,Golf Elbow, Baseball Shoulder, Running Failure, Runners Knee, Shin Splints, Post Operation Care, Form, Misalignment, Conditioning.
※2
Headache, Ringing in the Ears, Insomnia, Eyestrain, Sprained Neck, Neck and Shoulder Stiffness, Frozen Shoulder, Scoliosis, Slipped Disk, Hernia, Spinal Canal Stenosis, Sciatica, Knee Pain, Deformation Knee Osteoarthritis, Tendonitis, Stresses, Chronic Fatigue Syndrome.



☆Inquiry
Tel: 054-207-9605
Open : AM9:00~PM8:00

Regular Holiday : Sunday and National holiday

Mail: oshidoritiryouin@gmail.com
Address: 2-17-5, Agetsuchi, Aoi-ku, Shizuoka city
Bus stop: Sports club Seishin Mae(Bus number 60 or 60-1)